This Intuition Program leads you to ...
Discover and Unveil Who You Truly Are!
Your intuition is the gateway to your vast and unlimited self, and all the wisdom and guidance you need to craft your life optimally.
It will align you to your highest path and potential, and that which is uniquely appropriate for you, opening the floodgates and turning on the floodlights to your brightest future!
To discover the full secrets to unleashing your Intuitive Genius, involve yourself with this empowering program.
The program is called The Intuition Zone
moves beyond theory and provides an experiential system with a multitude of tried-and-tested, grounded techniques, exercises and divinely guided meditations that you can put into practice right away!
Below is a synopsis of just some of what you will receive in the Intuition Zone program which includes easy-to-follow written material and several guided audio meditations.
Intuition Zone Workbook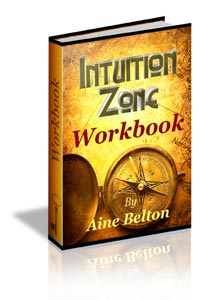 Discover the 'how to' road map to access and implement your intuitive self. Includes:
• Foundations for Intuitive Practice
• Over 17 Specific Exercises and Techniques
• Beginner Exercises
• Designated Doorways Meditation
• Asking for a Sign Technique
• Yes-No Methods of Divination
• Up Above Technique
• Muscle Testing & Using a Pendulum
• Automatic Writing Technique
• The Use of Card Decks & Examples
• And so much more!
Intuition Zone Guidebook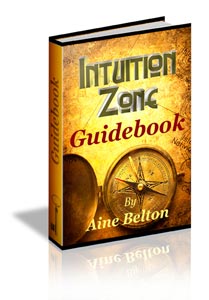 Discover the secrets of intuition with unique and profound insights into this remarkable resource, including:
• Your 4 Primary Intuitive Channels
• Your Higher Self
• Prediction versus Creation
• Beyond Ego
• The Power of Asking
• Immediate & Non-Immediate Responses
• The Magic in the Mystery
• Old versus New Paradigms
Decoding Inner & Outer Reality
Unravel the meaning and metaphors inherent in the images, signs, and messages presented in your inner realm (such as via your Intuition Zone practices), and external reality. Includes:
• How to Decode your Inner & Outer Reality
• Over 18 Examples of Message 'Platforms' in your External Reality & Everyday Life
• How to Designate a Sign in Outer Reality
• Why there are No Should's
• Over 22 Examples & Interpretations of Signs, Symbols & Metaphors
• Metaphor Mind-Set Exercise
• And much more!!
Quality Questions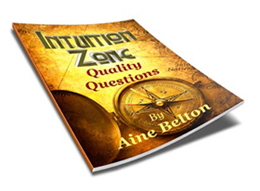 The importance of effective questions for leveraging your intuitive self. Includes:
• Quality Question Guidelines
• Why to Avoid Shoulds Woulds & Coulds
• 'Better' Beware
• Frames of Reference
• Settings for Yes-No Questions
• Open-Ended Questions
• Why there is no Perfect Answer
• Lots of Examples!
Inner Realm Meditation (audio)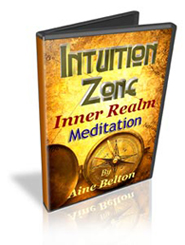 In the Inner Realm Meditation you will experience an internal landscape and your sacred 'safe space' within, from where to engage your intuitive senses and receive insight and guidance.
You will also meet the personification of your Higher Self and experience the divine essence that you are and highest aspect of your consciousness. You will ask questions and receive guidance and...
... merge with their love and light to integrate the magnificence that you are.
Gifts of Insight Meditation (audio)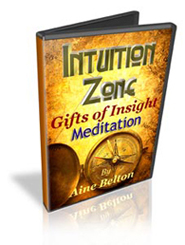 In this magical meditation you will receive 3 Gifts of Insight, each from different mediums in your inner realm, offering scope in platforms of communication with which to enhance your intuitive capacity.
It includes opening a gift box from your Higher Self with a unique and specific gift for you available each time of listening. Experience and flex your intuitive senses!

Earth Light Meditation (audio)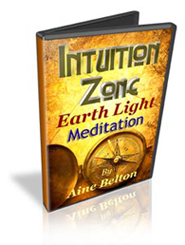 The Earth Light meditation is a powerful and elegant visualization technique that clears and aligns your energy, heightens your spiritual connection and facilitates grounding.
It serves to cleanse and recharge your chakras and auric field, raise your vibration and open channels of higher awareness.
It is a valuable primer to any intuitive practice to enable greater clarity and receptivity, and also a valuable daily exercise for general clearing, centering and aligning. Bathe in the healing power of divine love and light!
Release & Integration (audio)
In the powerful Release & Integration meditation, you have the opportunity to release that which is encumbering you in your life, and open to receive and integrate that which is most serving to you at this time, be it on physical, mental or emotional levels.
Let go of the old and open up to the new!
Totally liberating, transforming and empowering!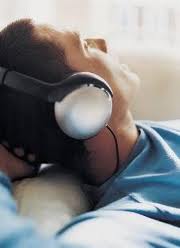 The time is NOW! You are here because you were guided here. EMPOWER YOURSELF!
Enter The Intuition Zone program now:
The Meditations
What people are saying about the meditations...
* "The meditations in the program are amazing and put me in a beautiful blissful place which I didn't want to return from!" - Debra G Brown, Global Hugs Ltd, www.globalhugs.com
*"Your 'Inner Realm' meditation took me to such deep levels and to such ethereal places which were totally blissful, illuminating and inspirational." - Mary Christodoulou, www.angelmail.co.uk
* "Your voice is captivating and silky, carrying you to the magical dimensions that lie within you - the doorway to 'all that is'." - Gulrukh Khan, www.ways2self.com
* "Your meditations are the most beautiful and blissful meditations I have ever experienced! I had tears in my eyes when I met my Higher Self." - Toni Winters
* "Your melodic voice guides me through the meditations bringing inner peace and clarity." - Katrina Peluso, PowerfulAwareness.com
* "Listening to your angelic voice guiding you through a meditation is just icing on the cake!" - Arupa Tesolin, www.intuita.com
In the Intuition Zone program you will discover:
• The guidance you need to make choices that create your best possible life
• How to experience your Inner Realm and transform it for outer world success
• Spiritual solutions to problems and challenges
• Energy clearing and aligning to prime your intuitive channels
• How to ask optimum potent questions
• How to quickly identify and clear the root cause of challenges and sabotaging patterns that are holding you back!
• Signs, symbols and metaphors present in your outer reality and how to decode them
• The four primary intuitive channels and how to activate them
• The limitless powerhouse of love, wisdom and guidance that lies within and how to access it 24-7
• The incredible energy, essence and unconditional love of your Higher Self that will radically raise your vibration
• How to live with deep confidence and trust, able to access and receive the guidance and support that is there for you in every moment
• A two-way relationship with Spirit
• A simple yet powerful technique for cleansing and aligning your chakras and energy field
• The different faces of intuition
• How to connect with source on a daily basis
• The magical dance of co-creation
• How to develop a real and tangible with your Higher Self - the truest aspect of your consciousness
• How to discern internal guidance for effective problem solving
• Yes-No methods of divination
• How to release unserving energies at the chakra level
• Union with your inherent Divine Nature
• An intimate connection with your wise and loving self. How to get help from the 'other side'
• Doorways into the real issues behind elements and issues in your outer life
• 'Mental Dowsing' techniques
• How to develop your latent psychic ability to solve problems and gain insights in a whole new way
• And so much more!
Access All The Power You Were Born With...
YOU Are The One You Have Been Waiting For!
Unleash Your Inner Compass, Align to True North:
- Your Highest Path & Potential -
and Awaken Your Intuitive Genius!
Discover the methods, means and step-by-step exercises and techniques to unlock your ultimate ally today! Click Here!
---
Intuition - the Inside, Upward, Outward Journey!
---
Master your Intuition with this definitive and comprehensive program - includes guidebook, workbook, additional reports, 4 audio MP3 meditations - a thorough 'how to' road map for developing and harnessing your intuition
---
Return from Intuition Program to Consciousness-Evolving